INTRODUCTION
In his memoirs, my dear & recently departed friend, Conrad Singer, describes the interesting and exciting life that he had led. Full of narrow escapes, incidence and coincidences (especially during the Spanish Civil War), his account provides strong evidence that his life was meant to be just as it was, destined by God.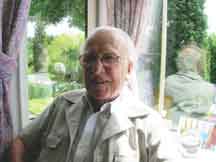 Conrad, pictured in 2004 when he was 92 years old, lived at that time in Heathlands Retirement Village, Prestwich, Manchester. One of Conradís few remaining wishes was to have his life story read by others as it seemed full of lucky survivals from dangerous situations that after a while made him believe that his survival must have been predestined in some way.
I first met Conrad at Heathlands in early 2004 whilst visiting my Aunty Elly, another resident at this wonderful home who, sadly, also departed this life a few weeks after Conrad in October 2006. During 2004/5 I arranged and edited the condensation of his autobiography based on a previous draft that his old friend, the ex-Lord Mayor of Blackpool, had written during 1972-73 and which filled over 83 pages. I scanned the photos from Conrad's photo albums and "borrowed" many framed photos from off the walls of his Heathland's flat.
I sincerely hope you enjoy reading Conrad Singerís life story, and hope you will find it as fascinating as I did. Perhaps, too, it will give you pause for thought about how our lives, at times, seem to be pre-destined.
Graham Balaban
29th May 2005, amended 28th December 2006